Back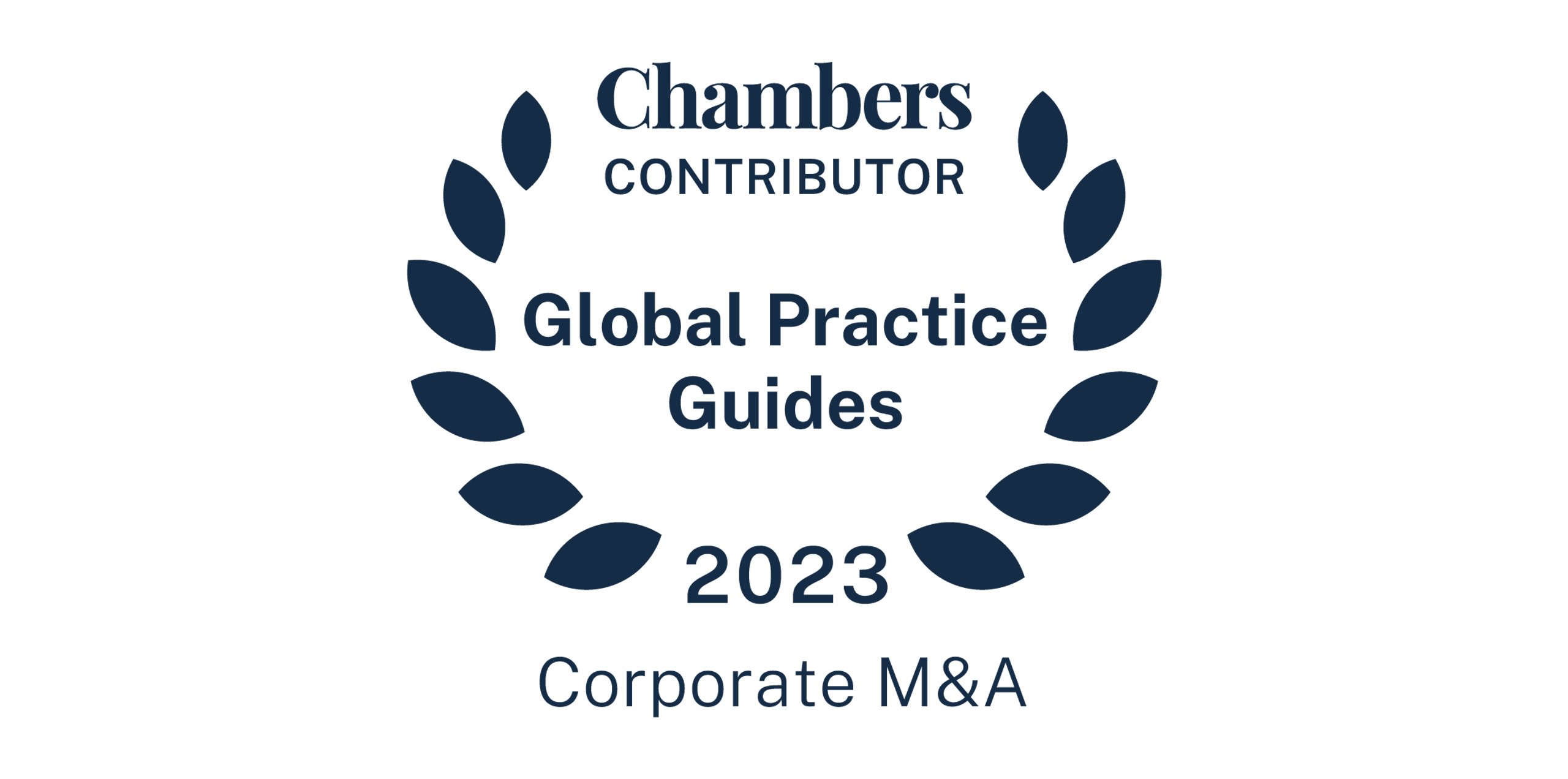 SkyLaw M&A Articles Published in 2023 Global Practice Guide
---
We are honoured to once again be the exclusive author on Canadian M&A for Chambers and Partners 
---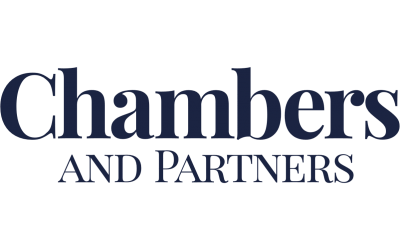 Highly respected legal publisher Chambers and Partners has published the latest edition of its Corporate M&A 2023 Global Practice Guide. We were delighted to once again be invited to be the exclusive author of the Canadian M&A section of this sought after guide.
SkyLaw's full articles on Corporate M&A can be found at the following links:
● Law and Practice in Canada
● Trends and Development in Canada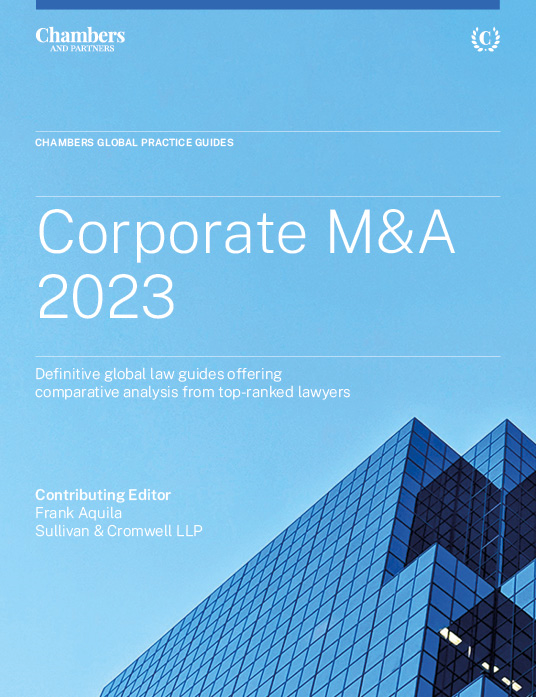 This year, the comprehensive guide covers 55 jurisdictions. With Frank Aquila from Sullivan & Cromwell LLP acting as Contributing Editor, the guide provides the latest legal information on acquiring a company, antitrust regulations, restrictions on foreign investments, stakebuilding, negotiation, mandatory offer thresholds, conditions for a takeover offer, squeeze-out mechanisms, disclosure, duties of directors, defensive measures and shareholder activism.
The entire guide is available to view online at no charge, and it has a handy "Compare locations" tab for comparing selected topics by jurisdiction. It can also be printed or downloaded here. We welcome you to take a moment to visit the links and enjoy all of the available resources.
---
Our View on M&A in Canada in 2023
Our first set of Chambers articles was published in early 2021, where we considered the ravaging impacts of the ongoing pandemic. When we were working on the articles in 2022, Russia invaded Ukraine. This year, we had already submitted our first drafts to Chambers when Silicon Valley Bank failed. With so many global challenges, it is hard to predict the trajectory of M&A activity in 2023. Below is the introduction to our Trends and Developments article. Click through here to see the full article.
Introduction
Each year, The Economist publishes its word of the year. The winner for 2022 was "hybrid work", a pandemic-induced shift in work habits that is either a blessing or a scourge, depending on which side of the payroll ledger you sit on. A notable runner-up was the newish term "friend-shoring", which first gained prominence when it was used by Janet Yellen, the US Treasury Secretary, in a speech in Toronto in April 2022. A term used by optimistic investors is "soft landing", which would occur if a recession were avoided following the aggressive interest rate hikes over the past year, while some commentators are predicting a "rolling recession", where only certain sectors of the economy are impacted. However, with the recent shocks to the banking system and continued economic uncertainty, there now seems to be a greater likelihood of a "hard landing".
These terms capture the essence of some of the significant trends that have emerged as a result of the twin shocks of pandemic and war. In a speech in Washington, DC in October 2022, Chrystia Freeland, the Deputy Prime Minister and Minister of Finance of Canada, claimed: "This is a moment of extreme economic upheaval…". Few would disagree.
Canada is well placed to manage the global economic turmoil through the strength of its labour market, banks and natural resources, as well as increased government investment in key industries. While M&A activity in Canada declined significantly in 2022 from the blockbuster activity of 2021, the volume of announced transactions began to increase in the fourth quarter and may exceed pre-pandemic levels in 2023. There have been a number of significant transactions announced recently, lending support to the view that market participants have adjusted to the current macro-economic challenges and valuations have reset in line with the current environment.
It is yet to be seen if investor confidence will continue to be sustained or if the fear of another global shock or more bank failures will cause investors to stay on the sidelines.
Global Shocks, Inflation and Interest Rates
At the beginning of 2022, the world was still grappling with the ravages of the COVID-19 pandemic, which not only caused incalculable death and suffering, but also saw unprecedented government intervention with closed borders, lockdowns and massive handouts. The resulting disruption of global supply chains, combined with the sudden consumer demand surge supercharged by the wave of cash from governments, sparked rapid inflation and fears of a global recession. Then on 24 February 2022, Russia invaded Ukraine, creating a humanitarian disaster and disrupting essential trade in food, energy and resources. Supply chain issues were exacerbated as China stuck to its "zero-COVID" policy for much of 2022, the USA ratcheted up its "tech war" with China over chip production, and Canada's relations with China turned frosty.Central banks, including the Bank of Canada, responded with aggressive interest rate hikes in 2022 to tackle inflation. The sudden rise in interest rates, among other factors, put significant stress on the financial system and led to the dramatic failure in March 2023 of Silicon Valley Bank and, shortly thereafter, the 166-year-old Credit Suisse collapsed. The resulting tightening of credit markets and the fear of further bank failures make for eerie parallels to the 2008 global financial crisis.
The long-held view that globalisation would lead to peace through prosperity has been shattered. The war in Ukraine continues to rage. Tensions between China and Western countries continue to be strained, particularly in relation to trade and Taiwan. Canada and other countries have imposed increasingly tighter restrictions on foreign investment as they pursue friend-shoring policies and protect critical minerals, technologies, and supply chains. The risks of further economic upheaval still exist. A new shock could trigger a global recession.
---
SkyLaw's Full Articles from the Global Practice Guide
This blog post is not legal or financial advice. It is a blog which is made available by SkyLaw for informational purposes and should not be used as a substitute for professional advice from a lawyer.
This blog is subject to copyright and may not be reproduced without our permission. If you have any questions or would like further information, please contact us. We would be delighted to speak with you.
© SkyLaw . All rights reserved. SkyLaw is a registered trademark of SkyLaw Professional Corporation.