Back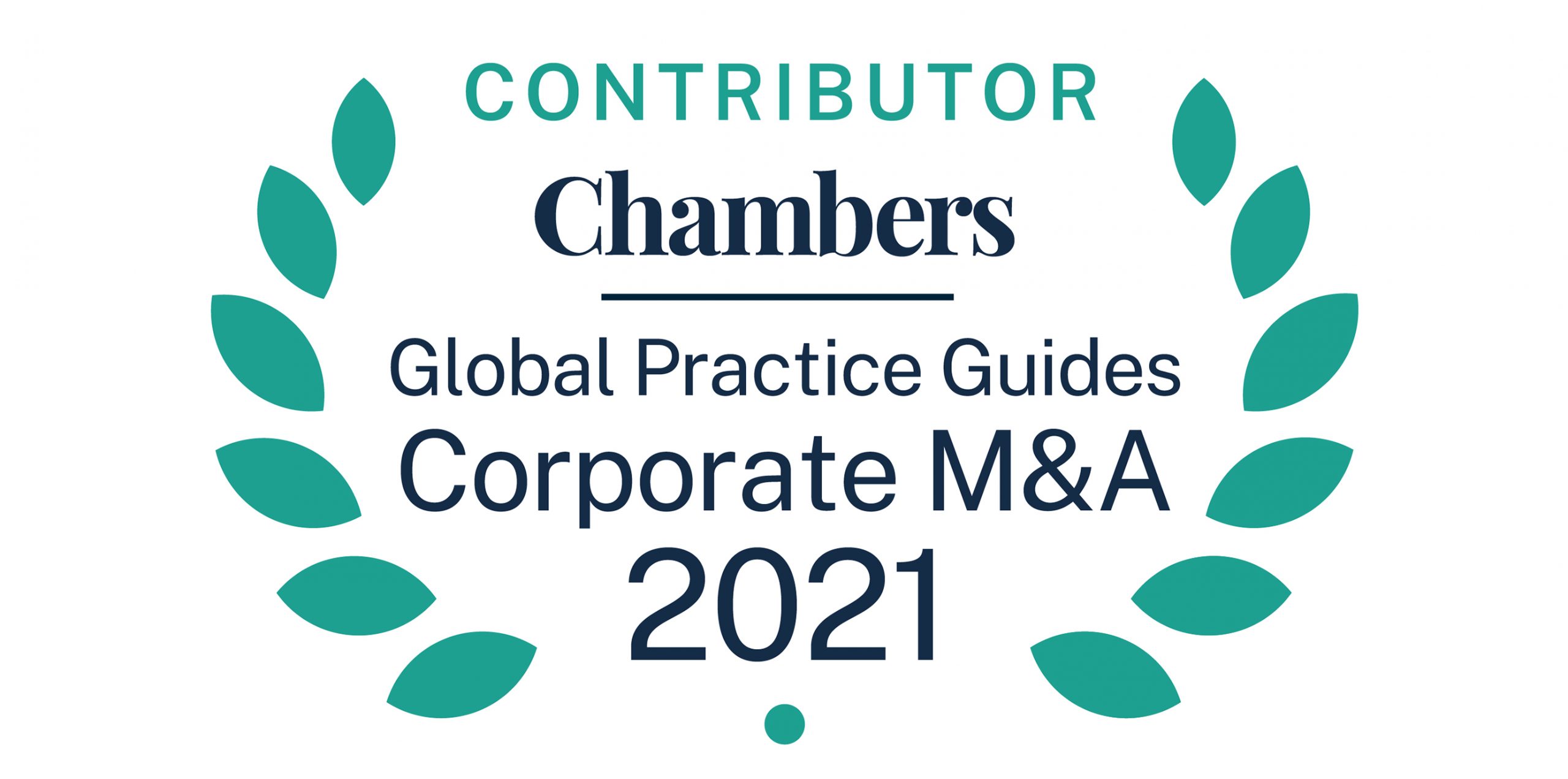 SkyLaw M&A Articles Published in 2021 Global Practice Guide
---
Yesterday evening, Chambers and Partners published its Corporate M&A 2021 Global Practice Guide online, including two articles about Canadian M&A written by SkyLaw
---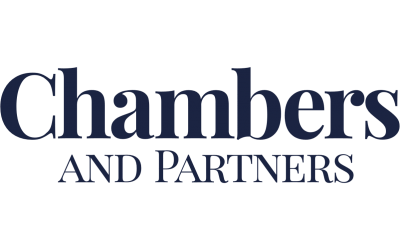 As we noted in our Spring Update, we were honoured to be invited to be the exclusive author of two articles on Canadian M&A for the highly respected legal publisher Chambers and Partners.
We are very happy to announce that the Chambers Corporate M&A 2021 Global Practice Guide is now available to view online without charge. With Frank Aquila from Sullivan & Cromwell LLP acting as Contributing Editor, the guide covers an impressive 59 jurisdictions.
Please click here to access the entire guide and our articles online: Corporate M&A 2021.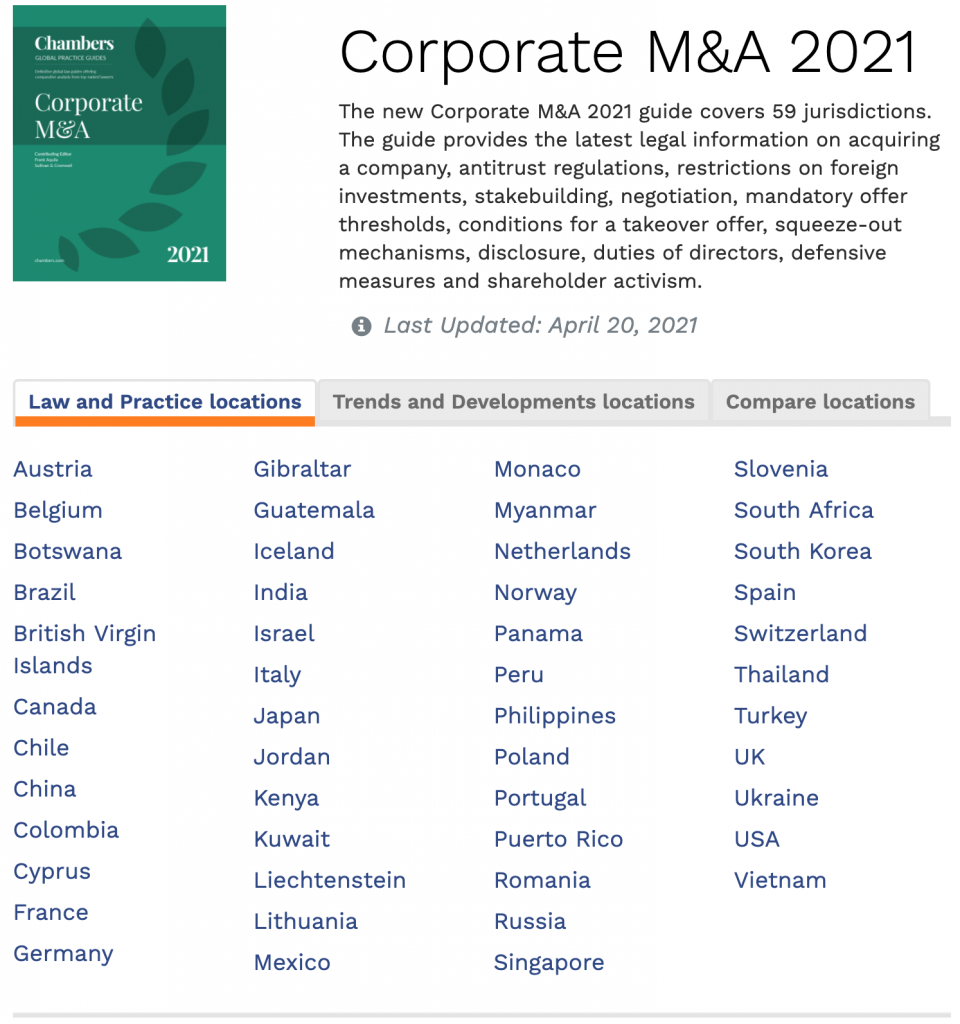 The first tab at that site links to our article on M&A law and practice in Canada. The second tab links to our article on M&A trends and developments.
The third tab labelled "Compare locations" is a great feature that allows you to compare specific topics in each of the various jurisdictions, for example you can pull up side by side the section of our law and practice article "Directors' Ability to 'Just Say No'" and easily compare it to the same sections in the U.S., U.K., China, Brazil, India, Russia or any other jurisdiction from the 59 that are represented.
The searchable and downloadable eGuide version can be found online here.
We believe 2021 will be a blockbuster year for M&A in Canada. We reproduced below a portion of our article on M&A trends in Canada and welcome you to take a moment to click through to the Chambers site to see the full articles and all of the resources that are available.
---
Highlights from our Chambers Article on M&A Trends in Canada
Every year since 1932, Canada has hosted one of the largest conventions for the mining industry in the world. In early March 2020, the Prospectors & Developers Association of Canada (PDAC) hosted the convention with more than 25,000 people from 135 countries participating. The prime minister of Canada, Justin Trudeau, attended PDAC and spoke of Canada's commitment to keep the mining sector strong and competitive as the country transitions to a low-carbon economy.
Shortly after the conference, health officials announced that one of the participants had tested positive for the novel coronavirus (COVID-19). The following day, the World Health Organization declared COVID-19 a global pandemic and Mr Trudeau announced that he would be self-isolating as his wife had tested positive for the virus. PDAC this year was held entirely virtually.
The initial uncertainty following the COVID-19 outbreak caused many M&A transactions to be delayed or terminated. Canadian M&A activity fell to a nine-year low in 2020 as the pandemic put the brakes on companies' growth strategies and halted or delayed many transactions that had been in the works. Travel restrictions and stay-at-home orders continue to impact M&A transactions in 2021, in particular because of the preponderance of transactions in Canada involving resource companies and other industries that are more likely to require site visits and other in-person due diligence.
Despite facing uncertainties in light of continuing public health restrictions, M&A activity continues to rebound in 2021. The low cost of capital is certainly an important factor: with record low interest rates, private capital and equity markets are ready to invest and are expected to propel activity forward.
Overall, we expect to see a high volume of M&A transactions in 2021 as delayed deals come to market and the economic indicators point to a favourable deal-making environment. The first quarter of this year has already set records for deal activity according to Reuters, citing data that companies had raised C$19 billion (the most since Q1 of 2010) and engaged in M&A activity totalling a record high of US$114.91 billion.
For instance, in March 2021, Rogers Communications Inc., Canada's largest telecommunication business, announced a deal to acquire Shaw Communications for C$26 billion. Shortly thereafter, Canadian Pacific Railway Ltd. announced that it would acquire Kansas City Southern Railway Co. in a stock and cash deal with an enterprise value of approximately US$25 billion. This transaction will lead to the creation of the first single-owner railroad linking Canada, the USA, and Mexico. Yesterday, Canadian National Railway Company started a bidding war by sending a letter to the Board of Directors of Kansas City Southern with a superior proposal having an implied premium of 21% to the CP deal.
Cross-border Transactions
While the aggregate value of foreign investment in Canada declined in 2020, foreign acquisitions of Canadian targets remain at historically high levels. Canada continues to be a favourable destination for foreign buyers – most notably from the USA, which represents the largest inbound source of foreign acquirors of Canadian targets. Greater cross-border activity is anticipated in 2021.
Certain foreign investments into Canada have been subject to enhanced government scrutiny. In December 2020, the Canadian government rejected Shandong Gold's proposed acquisition of TMAC Resources and its arctic gold mining project on national security grounds. The government announced in March 2021 that it will scrutinize transactions involving Canadian businesses that trade in personal data, develop sensitive technology with military or intelligence applications, or mine "critical minerals" such as lithium (used in electric car batteries).
Distressed Transactions
Three sectors, in particular, experienced financial distress in 2020: cannabis, retail and hospitality. Cannabis and retail distressed transactions are continuing a trend that started pre-pandemic, whereas hospitality started to decline later under the extended COVID-19 measures, mostly due to government-enforced closures having an asymmetrical effect on the traditional bricks and mortar nature of the industry.
Restructuring filings under the Companies' Creditors Arrangement Act are up, but many of the insolvent companies were facing financial pressures before the pandemic. As the federal government support programs expire in mid-2021, there may be an increase in distressed M&A activity.
SPACs
We continue to see an interest in special purpose acquisition companies (SPACs) in Canada. SPACs raise funds, list on a stock exchange and then seek out private companies to acquire, helping them go public without the grind of an IPO. In April 2021, the NEO Stock Exchange launched a new SPAC-like vehicle called a G-Corp aimed at mid-market companies.
The US Securities and Exchange Commission recently cautioned investors on celebrity SPACs and the same trend is being seen in Canada. The largest cannabis SPAC to date, Subversive Capital Acquisition Corp., was listed in Canada. After raising over US$500 million on its launch, it recently completed its qualifying transaction by acquiring several cannabis enterprises, including one involving Jay-Z.
What Should Potential Acquirors Consider in 2021?
Prior to 2020, the risk of a global economic shutdown seemed very remote. The pandemic and the resulting economic turmoil have dramatically impacted how we do business and how deals are conducted. There have been some key developments that potential acquirors should keep in mind.
Who bears the risk of future disruptions from the pandemic? In an important Canadian court decision in 2020, the pandemic did not result in a "Material Adverse Effect" that would have allowed an acquiror to terminate an acquisition agreement in part because the pandemic did not disproportionately affect the target. The acquiror was required to close the transaction, and did so in early 2021.
Uncertainty can result in wide valuation gaps between acquirors and sellers. Expect greater use of alternative payment mechanisms such as earn-out provisions to mitigate the risk of a target underperforming post-closing.
Parties should manage their expectations around the time it can take for completing on-site due diligence and negotiating the transaction virtually.
There will be increased scrutiny of many transactions under the Investment Canada Act and the Competition Act.
The importance of planning and assessing risk will continue to be a renewed focus in corporate transactions. Be prepared for the risks associated with new regulations aimed at managing the COVID-19 crisis as many significant rule changes become effective within a day or two of being announced.
Looking Forward
In the early days of 2020, very few people predicted the extent to which COVID-19 would impact all of us, our families and our businesses. At the time of PDAC in March 2020, the federal government was advising Canadians that the risk from the novel coronavirus was low. As Yogi Berra was fond of saying, it's tough to make predictions, especially about the future.
Despite the recent setbacks caused by the third wave of the pandemic, economic indicators – including a falling unemployment rate, sustained low interest rates and a buoyant stock market – point to a solid economic recovery in the near future. Investor sentiment remains positive and there is a renewed sense of optimism in Canada. Public health restrictions should loosen in the coming months as more Canadians are vaccinated. Deals that were put on hold will come back. The hardest-hit industries will be looking for investments and scale, spurring corporate transactions and consolidation. Based on all these factors, we expect that 2021 will turn out to be a blockbuster year for M&A in Canada.
We are saddened by the loss of life and the enormous pain and disruption the pandemic has caused worldwide. At this time, there is reason to be optimistic that 2021 will see a return to in-person gatherings with safety protocols in place, and that, with luck, participants will be able to attend PDAC in person in March 2022. Hopefully soon all sectors in Canada will return to the usual tempo of deal making. Until then, all of us will continue closing M&A deals and shaking hands, virtually.
---
Our Full Articles from the Chambers Global Practice Guide
SkyLaw's full articles on corporate M&A trends in Canada can also be viewed below:
This blog post is not legal or financial advice. It is a blog which is made available by SkyLaw for informational purposes and should not be used as a substitute for professional advice from a lawyer.
This blog is subject to copyright and may not be reproduced without our permission. If you have any questions or would like further information, please contact us. We would be delighted to speak with you.
© SkyLaw . All rights reserved. SkyLaw is a registered trademark of SkyLaw Professional Corporation.