Back

SkyLaw Celebrates its 10-Year Anniversary!
---
A message of gratitude from our Founder, Kevin West
---
Ten years ago today, SkyLaw Professional Corporation was officially incorporated.  I had a website, a BlackBerry and a vision: to use technology to provide legal services efficiently. The idea of cloud computing was just taking hold and it was the inspiration for the name "SkyLaw".
In looking back, it is clear that by far the most important factor in SkyLaw's success is one that could not have been planned from the start. It is the amazing people I had yet to meet and who joined SkyLaw. I am so grateful to everyone who has been a part of this journey.
---
A look back over this past decade
I started my career with Sullivan & Cromwell LLP in New York and Australia and with Davies Ward Phillips & Vineberg LLP in Toronto. After eleven years at big firms, I started SkyLaw. I am grateful for the experiences I had at both firms as I was able to see both the practice of law at the highest levels and the business of law. I was in the S&C New York office from 2000 to 2002, which had 500 lawyers, and then showed up at the S&C Sydney office, which had only two other lawyers, one of whom was on maternity leave. Being in a smaller office, I was given a rare opportunity as a young lawyer to work on large, sophisticated cross-border matters while also being involved in client development, invoicing, hiring staff and making sure the lights in the office were turned off and the door locked at night.
Client 001
The first week after leaving Davies in October 2010, I got a call from a partner at Sullivan & Cromwell that led to SkyLaw Client 001. The matter was right in my cross-border M&A sweet spot: an Australian company run by two great guys was being sold to a Canadian company. They came to Toronto to negotiate the deal and I got to spend lots of time with them (as they were my only client at the time).  I called in some favours to bring them to their first "ice hockey" game sitting next to the Leafs bench behind the glass. It was an auspicious start.
The SkyLaw Team Comes Together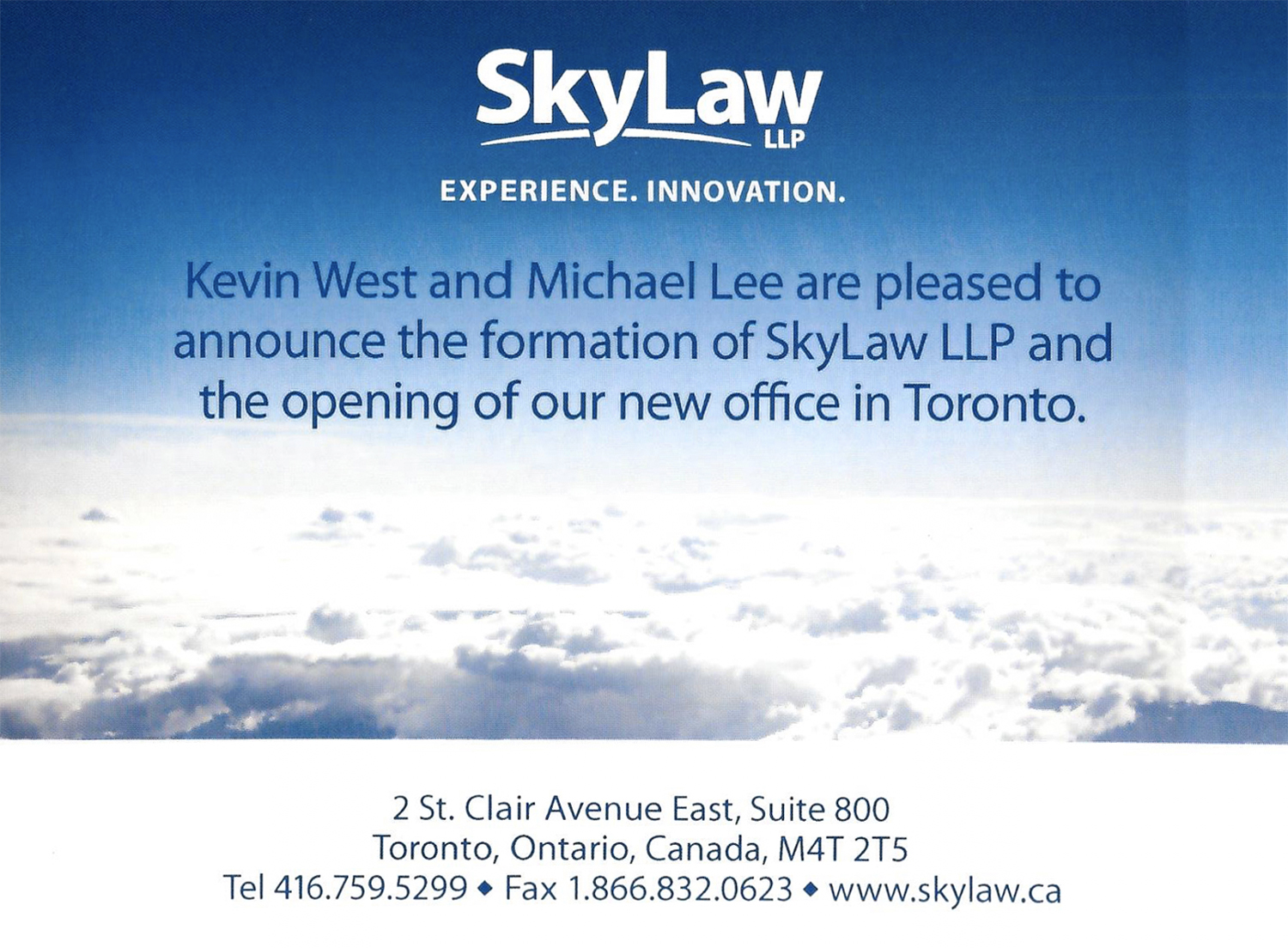 Not long after that, amazing people began to join. Soon we had assistants, clerks, students and associates working together in our offices at Yonge & St. Clair. In 2011, Michael Lee joined and we formed SkyLaw LLP and launched SkyCounsel. Those were heady days.
We have been reaching out as part of our 10th anniversary celebrations to all of the alumni who have worked with us (over 40!) and we have received some great responses (see below).
The Launch of SkyLaw 2.5
Since the early days we have been working closely with Thomas Laporte Aust, who started Aust Legal in Montreal in 2010. During one of my trips to Montreal in 2014, I visited their office above an art gallery, which was all brick and beam and high ceilings and super impressive. I mentioned to Thomas that I'd love to find some serious office space in Toronto. He said I should check in with some great guys at Podium Developments that we were already working with together and who were looking to move into new space in an industrial building just below Casa Loma. We went to go look at the empty Floor 2.5, spent ages marking out with tape where we wanted to put the walls to our office, had fun driving around for furniture and floor samples, and eventually moved into the space. My daughter and I put this video together to mark the evolution to SkyLaw 2.5.

The End of Prohibition and the Beginning of the Golden Age of Cannabis
December 26, 2015 is a memorable day to me as I received a call from a former associate at Sullivan & Cromwell with a new matter. That call started us on an incredible journey through the world of cannabis as we worked with a variety of companies positioning themselves for the end of the century-long prohibition on cannabis in 2018.
We have worked on a number of major transactions involving cannabis, including the acquisition of Peace Naturals by PharmaCan (now Cronos Group) in July 2016 and numerous investments by Gotham Green. We have helped start-up cannabis companies get licensed and raise capital (SkyLaw Client Canwe Growers Inc. received its license three years to the date after SkyLaw incorporated the company). We are also thought leaders in the industry with Andrea Hill's What's Up in Weed blog and opinion pieces in The Globe & Mail.
I Love It When a Plan (of Arrangement) Comes Together
As corporate lawyers, we rarely step foot in a courtroom. So it can be pretty exciting for us to participate in a fairness hearing for a corporate plan of arrangement. One of my most memorable fairness hearings occurred in 2005 when I was in a packed courthouse in Calgary with Davies client PetroKazakhstan Inc.  At the hearing Lukoil (the Russian state owned oil company) fought against China National Petroleum Corp. (the Chinese state-owed oil company) over the assets of the company in Kazakhstan. The case garnered international headlines and was the inspiration, no doubt, for the dramatic war between Russia and China over an oil field in Kazakhstan in the following season of The West Wing.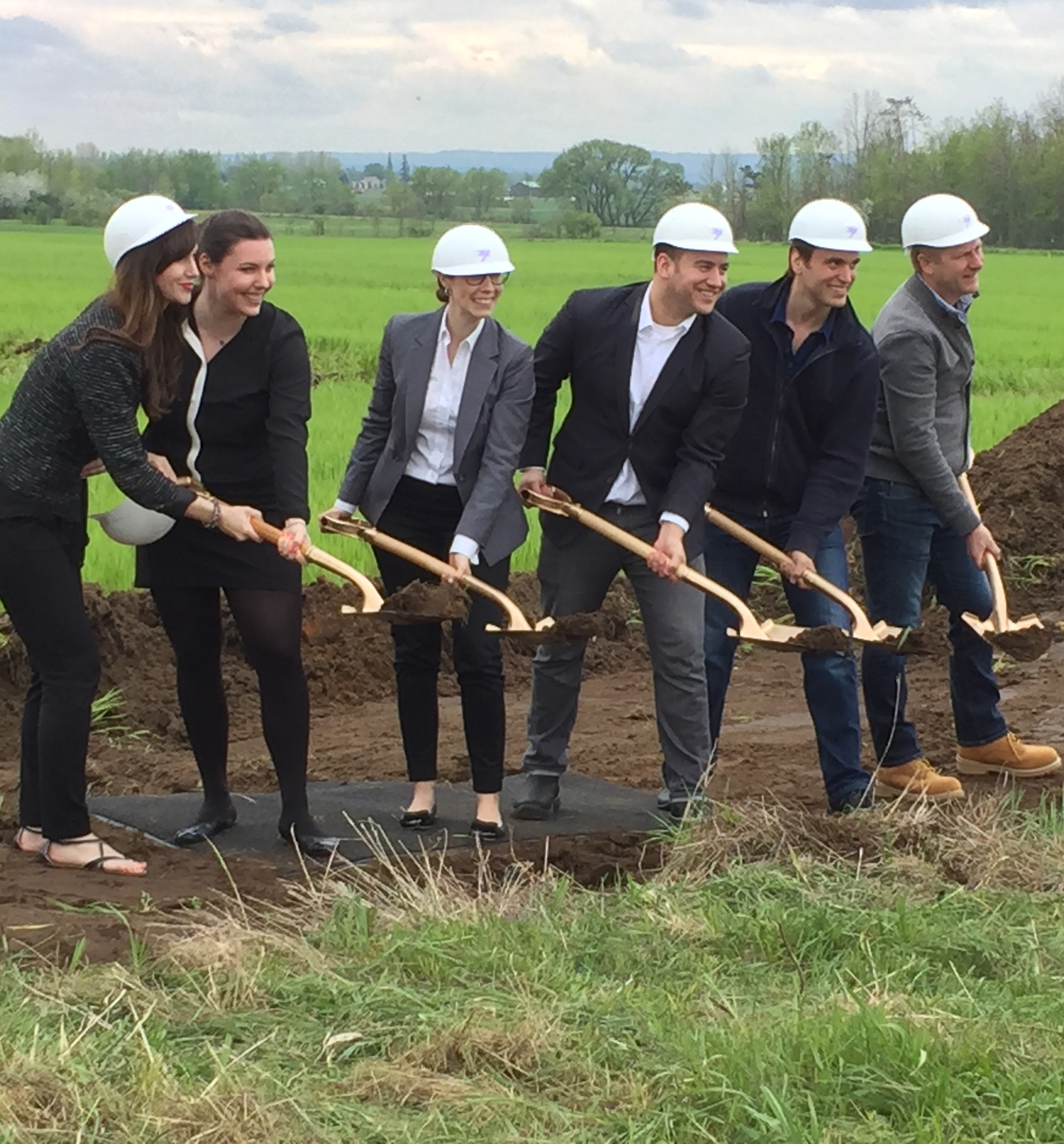 Fast forward to 2020, and this time instead of oil we have cannabis and instead of a packed courtroom we have a conference call. The fairness hearing for the plan of arrangement involving iAnthus Capital Holdings Inc. and Gotham Green was conducted due to the pandemic via Microsoft Teams with the litigators appearing before His Lordship by video and the spectators (like us) listening by audio (and firmly on mute). We worked with Gotham Green on its initial US$50 million investment in iAnthus in 2018, which at the time was ground-breaking and one of the largest cannabis investments.
Speaking of ground-breaking, here we are at the ceremony to kick off the new building at the Peace Naturals facility in 2017.
The Raptors!
One of our most rewarding business development initiatives is our Raptors season tickets that we have shared with Aust Legal and Podium since 2015. Who knew then that we would get to see the NBA Finals in person in Toronto last year? It was such an exciting time for all of us that we closed the SkyLaw office for the day on June 17, 2019 to see the Championship Parade.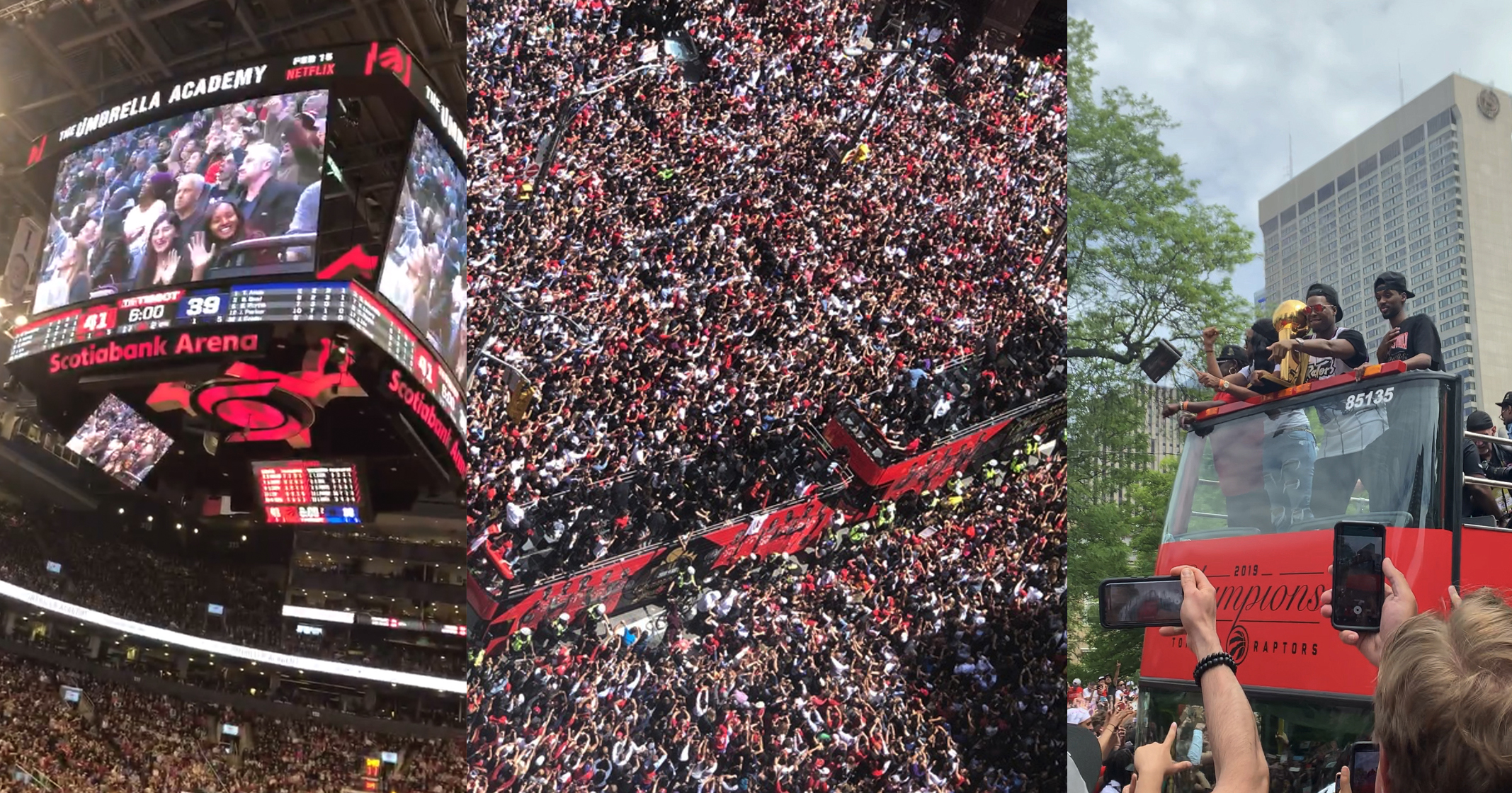 Note: SkyLaw's Priya Ratti and Estahil Aden were spotted on the Raptors jumbotron above! Photos of the Raptors parade are by SkyLaw's Kevin West and Madison Veperts. Special thanks to Laurel Hill for hosting us on their rooftop patio.
New Year, New Office, New York
I am fond of saying "success comes to those who show up". I make regular trips to a variety of locations to meet clients and contacts in person whenever possible, including Sullivan & Cromwell alumni events in Shanghai (in 2013) and Hong Kong (in 2017), and very often significant client work follows. I have been to Paris and London to meet clients and good friends and travelled throughout Canada, notably to present each summer at the annual conference of the Governance Professionals of Canada in glorious locations like Banff, Whistler, Vancouver and Quebec City. I was making so many trips to New York we had an office there at a super trendy WeWork in early 2018.
Last week, a law firm in Germany we know well asked whether SkyLaw would be interested in doing a lawyer exchange "once we enter a post-pandemic world". We have no real idea when that will be but as soon as we are ready we will return to travelling to see our contacts in all corners of the globe.
The Pandemic
Our first blog on the coronavirus was on March 6, 2020. At that time, the Canadian government said the health risk to Canadians was low, but we were seeing the impact on many of our clients already. I was at the Leafs game on March 10, 2020, unaware that it would be one of the last live sporting events to take place in front of a crowd anywhere in the world. The next day, the World Health Organization declared the coronavirus outbreak a pandemic and the NBA dramatically suspended its season. Seemingly overnight, everything changed for us.
We lived through some pretty dark days after that. Every day it seemed more bad news arrived. Difficult decisions had to be made about our office and employees.  I often thought about the leadership shown by the partners of Sullivan & Cromwell following the terrorist attacks on September 11, 2001 and by the partners of Davies during the 2008 financial crisis.
We are very fortunate that we were deemed an essential business and allowed to keep the office open.  We also have a great office that allows for social distancing and we are set up to work seamlessly from anywhere. I am so proud of our team and the way we were able to keep working on extraordinarily difficult matters for clients making crushing decisions as a result of the financial impact of the pandemic. I am so grateful for all of the extraordinary efforts that everyone has made to work together. In many ways, social distancing has brought us closer together.
While the world continues to face significant challenges, we are hopeful for the future.  We saw an uptick in new deals in September (perhaps not coincidentally, the kids started going back to school then too). We hope the trend continues and everyone stays safe and healthy.
---
Looking Forward
Our Client Base
We started with client 001 in 2010 and recently brought on client 617. On average, we have had more than one new client a week every week for 10 years. We have a terrific network of friends and colleagues around the globe who connect us with new clients regularly and keep our pipeline full.
We are most proud of our long-term clients. United Rentals, Inc. became a client in 2011 and we continue to work with them now.  This past month we have been working with clients 056, 078, 141 and others who have been with us from the early days. We are grateful for the continued respect and support we have received from these long-term clients.
The SkyLaw Team
Our success is due entirely to the efforts of the entire SkyLaw team.
Our clerks department is a great example.  Together, our Senior Law Clerk Esta Aden and our Law Clerk Bernice Lee-Pack meticulously manage over 130 minute books.  Esta knows them so well she can rhyme off details from memory, and she is so popular with clients that we keep a collection of nicknames she has developed.
We are also fiercely proud of our lawyers, Priya Ratti, Diana Nicholls Mutter, and Andrea Hill, and our articling student, Laura Wolfe.  Parachute them into a matter, and within short order the documents are organized, the next steps are clearly laid out, and the clients sense that we're as excited about their ventures as they are.  They are also inspiring ambassadors of the firm: Priya has spoken at national conferences, and Diana and Andrea are published authors.
Running a law firm is often at least 50% keeping the printer printing, the coffee brewing, and the finances jiving.  Each day, Jen Semple-Berger, Victoria Boyes, Madison Veperts, and Amanda Mitchell give us the gift of being able to focus on law while they keep the firm running.
In addition to contributing her talent for art and design to the firm's offices, website, and communications, Jen's warm personality figuratively lights up the firm from within and keeps us feeling like a team.  As the longest-serving employee of the firm (over 8 years with SkyLaw!), Jen is a huge part of the SkyLaw story and we are so proud to hit our 10-year anniversary with her by our side.
Aust Legal
In January 2020, we held our firm retreat in Montreal and joined the team at Aust Legal for an exciting curling outing and activities in Montreal. We are looking forward to working more closely with Aust Legal as we are reconfiguring our office space in Toronto with them and we already work on many client matters together.
---
Our 10th Anniversary Project
It may come as no surprise that the law society has a lot of rules. It is, after all, run by lawyers. Over time some of the quaint and archaic rules of the law society have been modernized and this has helped us create SkyLaw and thrive, including the relatively recent changes to the rules on naming law firms and the ability to use a professional corporation as a business structure for a law firm. We are grateful for all of the opportunities that have been afforded to us.
There is however one rule that remains in place that is an impediment to our ability to grow and reward the many members of our team who have contributed to our success: the prohibition on non-lawyers owning shares in law firms. As our 10-year anniversary project, in an effort to give back to the profession and society we will be exploring this issue and looking at whether it is time to modernize this rule.
The naming rules for law firms are modernized
Prior to 2004, law firms could only be named using the family names of lawyers at the firm. It would not have been possible to have a firm called "SkyLaw" prior to that point. True story: when international law firm Baker & McKenzie wanted to open an office in Toronto, they had to hire a lawyer named McKenzie in order to comply with the law society rules (they already had a Mr. Baker).
I am grateful that by 2010 I could create a new name that was symbolic, easy to remember and short. I also wanted a name that was more than just about me and that could afford others who join a sense of pride and ownership. In any event, Westlaw was taken (now part of Thomson Reuters).
Is it time to allow non-lawyers to own law firms?
Professional corporations were only permitted starting in 2000. Prior to that time, a law firm had to be a partnership or a sole proprietorship.
When amendments were made to the Business Corporations Act to permit professional corporations, a centuries-old rule continued to be enshrined into law: only a lawyer can own shares in a law firm. The Law Society of Ontario established a working group to study the issue in 2012 and received its report in 2018 recommending no changes.  While there continues to be debate within legal circles about the merits of the prohibition, which mostly centers around concerns about conflicts between profit-making and professional responsibilities, The Economist argued that preventing non-lawyers from owning law firms "keeps fees high and innovation slow".
Earlier this year, protests erupted over police brutality and racial injustice. In response, business leaders have examined their own organizations and committed to ending anti-Black systemic racism. This led us to examine the barriers that we have at our own law firm. As a corporate law firm we spend a lot of our time working on shareholder agreements and sophisticated employee stock incentive arrangements for clients. The arrangements we put in place for our corporate clients in other industries and the tax benefits of being a shareholder are not available to the non-lawyers in our firm. As we take a closer look at non-lawyer ownership of law firms, we will also ask ourselves: does this barrier disproportionately impact racialized persons and women?
We plan on studying this issue and discussing it with our colleagues at other law firms and innovators outside of the profession and then present our findings to the Law Society.
One of the major themes of our 10-year anniversary celebration is the fact that we have a long-term view and we expect SkyLaw to continue to be passed through the hands of many in the future. I hope that this will include all of the members of our team.
---
Our 10th Anniversary Painting
To celebrate our 10-year anniversary, we commissioned a painting by Martin Russocki, a client and great guy who has done several paintings for us previously. Martin worked with us to come up with a very meaningful memento that now hangs in our office. The painting has many symbols of our favourite things from over the years.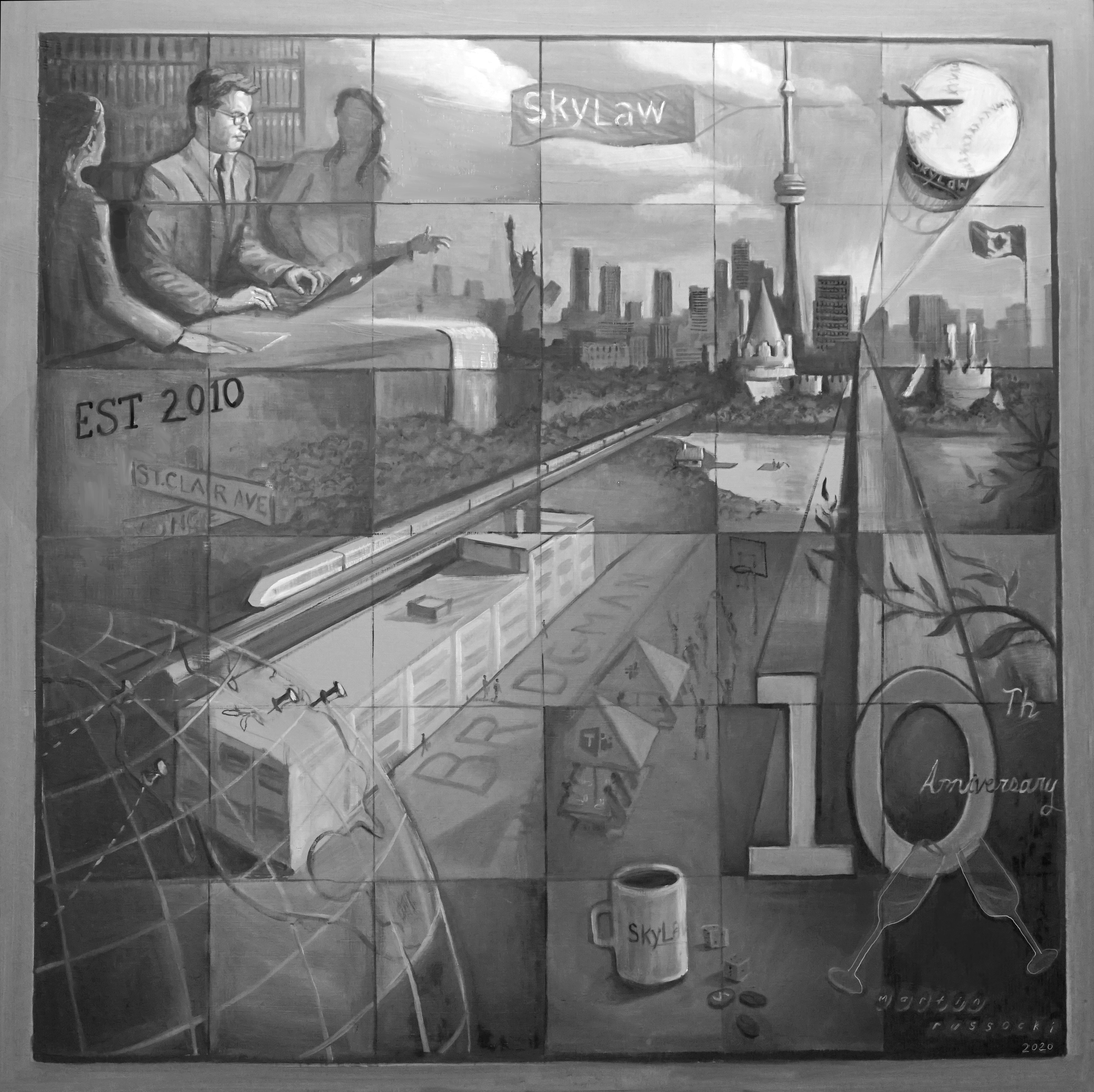 ---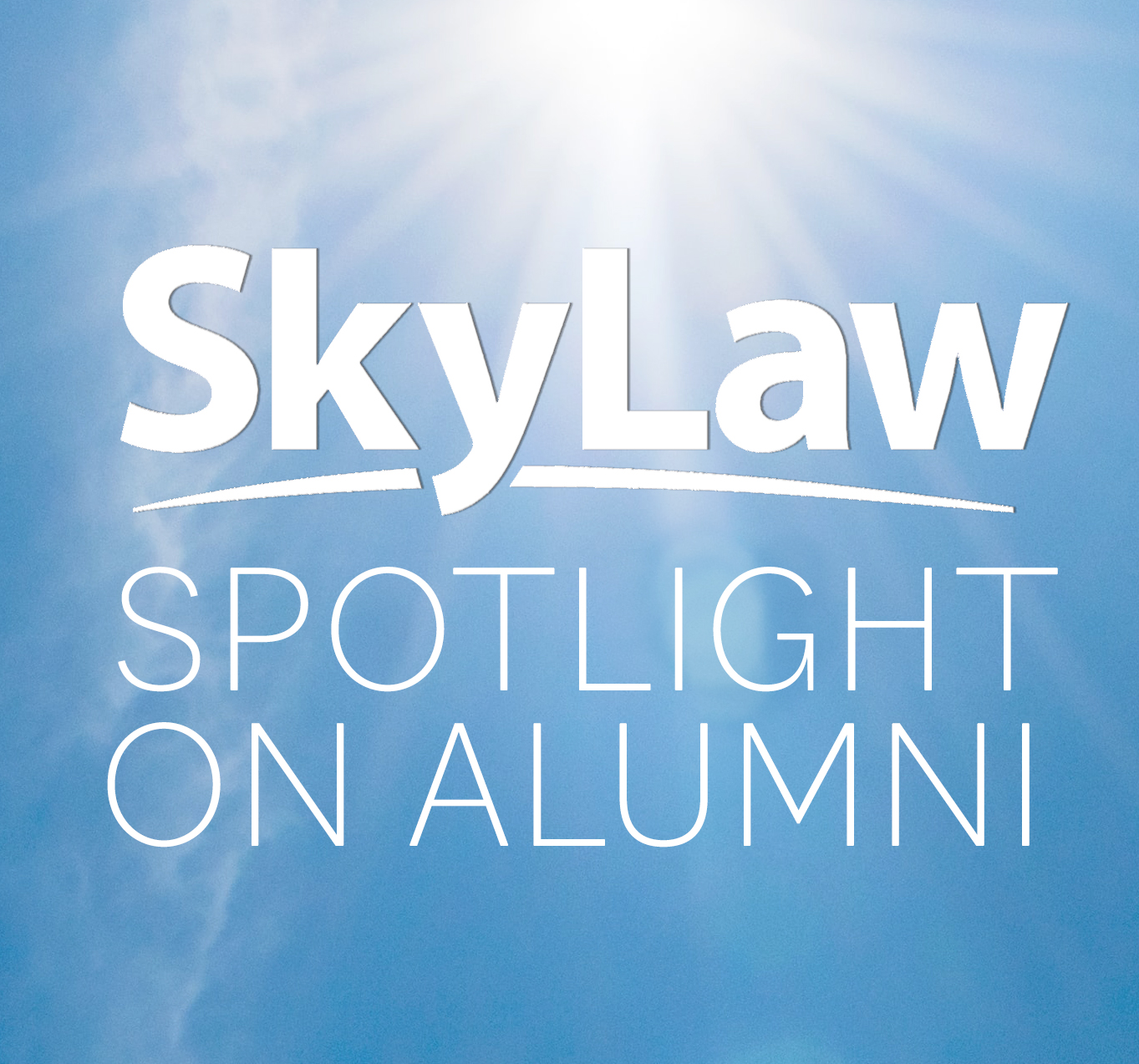 Spotlight on Alumni
We are so proud of our many alumni. We like to stay in touch regularly with the staff, students and lawyers who have worked with us in the past. We recently received this lovely message from Chelsea Angel:
"After working with the SkyLaw team for a few months, I remember I had mentioned casually in conversation that I had never received flowers on my birthday. Lo and behold, I received a lovely bouquet on my desk when I arrived at work on my birthday. I had only been there a few months, but they remembered. I also received flowers at my home when my grandmother passed away that same year. These gestures of compassion were not just monetary in value, they showed that I was working somewhere that I was truly appreciated and considered part of a family. The year that I worked at SkyLaw was transformational. By being around people who were extremely successful, kind and considerate, I knew that law was the type of environment where I saw myself thriving. It also confirmed that there was a place for someone like me in the practice of law.

At the moment, I am completing my 2nd year of a joint JD/MBA program at Western Law and Ivey Business School. I decided to work for a few years in finance, as well as management/technology consulting roles so that I would have enough work experience to be eligible for the program. This year, I took on the role of president of Technology and Law association at Western Law. Next year, I will be working on a joint publication with one of my professors where I will have an opportunity to leverage my MBA to contribute to academic scholarship to economically empower Indigenous peoples through legal reform.

At an annual holiday lunch a few years after working at SkyLaw, I remember asking Kevin if I should pursue the dual program, when it was only a thought in my head. He confirmed it would be a good route to take and this advice certainly played a part in my decision to enter the program. The guidance and kindness I received at SkyLaw helped set the trajectory of my career. In the near future, my goal is to work in corporate, securities and/or private equity law, where part of my practice involves working with technology clients at all stages (start-up to IPO). My time at SkyLaw has also taught me that I can have a successful career, and still use my position to have a positive influence on my community. I also intend to do pro-bono work to help advance Indigenous economies.

I am proud to witness the success that SkyLaw has always had and continues to have. I truly wish the SkyLaw team all the best in its next 10 years of operation."
---
A Big Thank You
We have the good fortune of having the support and mentorship of so many amazing people, from my parents (thanks Mom & Dad!), to the partners at Sullivan & Cromwell and Davies, and the incredible people who have joined the SkyLaw team and devoted themselves to our success over the past ten years.
To all of our supporters, clients and friends, a big thank you from the entire SkyLaw team!
---
This blog post is not legal or financial advice. It is a blog which is made available by SkyLaw for informational purposes and should not be used as a substitute for professional advice from a lawyer.
This blog is subject to copyright and may not be reproduced without our permission. If you have any questions or would like further information, please contact us. We would be delighted to speak with you.
© SkyLaw . All rights reserved. SkyLaw is a registered trademark of SkyLaw Professional Corporation.