What's Up in Weed
---
The second wave of recreational cannabis is here.  Here's what you need to know!
---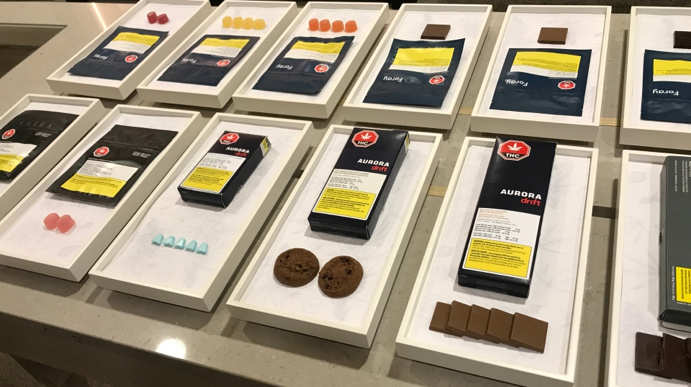 What is Cannabis 2.0?
This is the phrase used to refer to edibles (foods and beverages infused with cannabis), extracts (solid or liquid products that are produced by processing cannabis flower into a concentrated form, to be either ingested or inhaled), and topicals (products such as lotions and oils that have been infused with cannabis extracts and are meant to be applied to the external body surface which includes hair, skin and nails) that were legalized by new regulations to the Cannabis Act that came into force on October 17, 2019.
Previously, the only types of cannabis products contemplated by the Cannabis Act were dried cannabis flower, cannabis oil, live cannabis plants, cannabis plant seeds, and fresh cannabis (freshly harvested cannabis buds and leaves).

This new round of products allows for a wide array of new ways of consuming and experiencing cannabis, many of which do not require smoking or combustion.
Which kinds of new products are coming?
| | | | |
| --- | --- | --- | --- |
| Category | Product | Expected Pricing | Brands With Products Submitted to OCS |
| Edibles | Chocolate, cookies, mints, and soft chews | $7 to $14 per package | Tokyo Smoke, Dixie, Aurora Drift, Foray, San Rafael 71 and KOLAB |
| Beverages | Tea, flavoured soda, and sparkling water | $4 to $10 per 355mL can | Tweed, Haven St and Houseplant |
| Vapes | Vape pens, 510 thread cartridges, and vape kits | $25 to $125 | Aurora, San Rafael '71, RIFF, Solei, Good Supply, dosist, Foray, Kolab, Tweed, LBS, Van der pop, TWD, Tokyo Smoke, FIGR, Edison, Trailblazer, Redecan, Sundial and Top Leaf |
| Topicals | Creams, bath salts, and body butter | $15 to $55 | 48 North, Earth Dragon, United Greeneries and CBD Acres |
| Extracts | Shatter, wax, rosin, kief, and hash | $30 to $70 | Fireside and Canna Farms |
| Accessories | Dab rigs, storage containers, rehydrating stones, and batteries | $2 to $170 | JUJU Power, Tokyo Smoke LUMA, FIGR, Pulsar, Dewbie and PAX Labs |
When are products going to be available?
Why weren't products available as of October 17, 2019 when the new regulations came into force?
In order to legally ship and sell 2.0 products, licensed producers must first apply for an amended license, submit products for a 60-day review period, and finally pass quality assurance standards. When products meet these criteria, they may be introduced to the market.

Licensed producers could not apply for the new license until October 17, 2019 when the law first recognized these new product classes. New product rollouts are therefore expected to be staggered as LPs make their way through the regulatory approval process.
What are the rules and requirements for 2.0 products?
Edibles:
10 mg of THC per package

No added nicotine, vitamins, or minerals

Limit to caffeine added

Cannot require refrigeration
Topicals:
1,000 mg of THC per package

No added nicotine or alcohol

For use only on skin, hair and nails

Not for use on eyes or damaged skin
Extracts (for vaping):
1,000 mg of THC per package

No added nicotine, vitamins, minerals, sugars, sweeteners or colours
Extracts (for ingesting):
10 mg of THC per unit (for example, a capsule)

1,000 mg of THC per package

No added nicotine, vitamins, minerals, sugars, sweeteners, or colours

Must include a dispensing device if not in unit form
What is the likely impact of Cannabis 2.0?
A 2019 Deloitte report pegs the potential market for Cannabis 2.0 products at $2.7 billion, but predicts a "slow burn" to start.
According to ex-Canopy CEO Bruce Linton: "2.0 is the point in which the cannabis industry stratifies. Do you grow biomass, extract oils or create goods that people will line up for? There aren't going to be that many companies that have the full triangle.
…When you start selling things in milligrams, it's a different story. Grams aren't a brandable thing. It's not a unique formulation. 2.0 is about milligrams.  Milligrams are an extracted formulation. The options around a milligram is limitless.
…Margin opportunities are higher in creating branded milligram products. If you can't sleep and you get a formulation with cannabinoids that helps you, what would you pay for that? Whatever the price is. And if the active ingredients costs 20-cents, whoever makes that… that's who wins."
Where can I find more information?
---
Cool Links
---
What's Up in Weed is not legal or financial advice. It is a blog by SkyLaw which is made available for informational purposes only and should not be used as a substitute for professional advice from a lawyer. This blog is subject to copyright and may not be reproduced without our permission. If you have any questions or would like further information, please contact us. The SkyLaw team would be delighted to speak with you.
© Copyright SkyLaw 2020. All rights reserved. SkyLaw is a registered trademark of SkyLaw Professional Corporation.
---