Back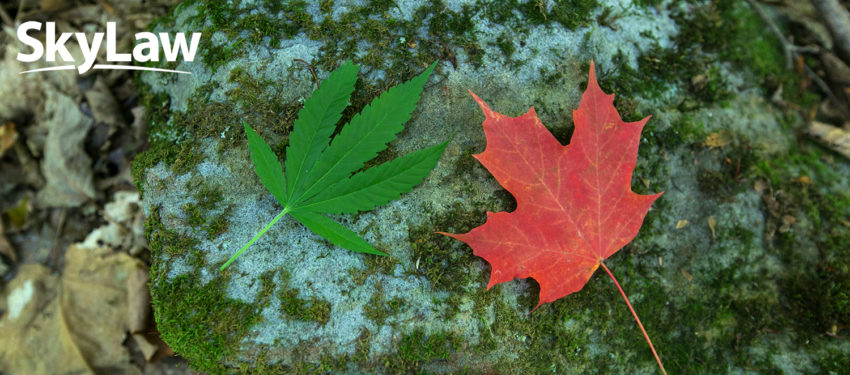 What's Up in Weed
October 17, 2018
By: Andrea Hill
I am pleased to bring you this instalment of my blog, rounding up what's currently happening in the cannabis industry in Canada and abroad.
---
And just like that – Prohibition is Over.
The federal Cannabis Act took effect at 12:01 am today, making Canada the largest country in the world – and only the second country on the planet – to legalize cannabis federally for recreational use.
What Does This Mean for You?
Mostly, legalization means that people 19 and older can now purchase cannabis from authorized sources (like the Ontario Cannabis Store's website), and possess and consume it in certain places without requiring a prescription for it from a doctor.  There are serious criminal penalties for black-market participants and actions such as providing cannabis to minors – but when purchased in legal quantities from authorized sellers, you can possess and consume cannabis recreationally, much like alcohol or cigarettes.
Where You Can Consume It
Currently, you can smoke or vape your recreational and medical cannabis in your private home (in condos, this may depend on building rules), in many outdoor places (like sidewalks and parks), in designated guest rooms in hotels, in vehicles or boats which have permanent sleeping accommodations and cooking facilities and which are parked or anchored and meet other criteria, and in certain controlled areas like long-term care homes, certain retirement homes, and residential hospices.
However, note that you may not smoke or vape cannabis in enclosed public places and workplaces, schools and school grounds, playgrounds, vehicles and boats that are being driven (even if by someone else), outdoor grounds of community recreational facilities and Ontario government office buildings, and restaurant patios, among other places.
Where You Can Buy It
85 legal bricks-and-mortar stores across the country opened their doors to sell recreational cannabis today, none of them in Ontario.  (There is no such thing as a legal dispensary operating in Ontario right now.)

Statistics Canada expects 288 stores nationwide to open by year-end, but still none of them in Ontario, the Northwest Territories, or Nunavut.
Today, Ontarians can only buy cannabis online through the Ontario Cannabis Store (OCS) website as the Ontario provincial government works to finalize the legislation that will govern private dispensaries in the province.  Here's a great technical briefing from the provincial government about some of the details of Ontario's upcoming retail cannabis dispensaries.
The OCS will also sell cannabis seeds for people who wish to grow their own plants at home for personal use (you may be allowed up to four plants, subject to rules put in place by your landlord or condo board).
When cannabis retail stores are licensed by the government next year, they will bear a seal showing their authorized status.  Until then, buy online.
The OCS's Frequently Asked Questions seem to hint that interest is being expressed in purchasing cannabis from the OCS to fulfill medical needs.  The OCS responds to that by saying that it can only make product suggestions based on a customer's recreational needs or the specifications of a product (such as THC content), and that they will not give medical advice or fill medical prescriptions.
Who's Making Money Off It
Meanwhile, stock markets have been on a tear in the days leading up to legalization.  Cannabis companies around the globe are on track to raise a record US$8 billion this year, including $4.3 billion in the first half of this year, which on its own exceeded the grand total of all funds raised in 2017 (US$3.5 billion).

We've also recently seen the first major investments by the long-awaited tobacco and alcohol industries – in addition to Constellation Brands' $5 billion investment in Canopy announced in August, tobacco titans Pyxus International (formerly Alliance One) and Imperial Brands have taken positions in Canadian cannabis companies.

In fact, Canadian pot companies have perhaps been a little too successful for some.  "Canada is threatening to deprive American farmers, workers and businesses from the prosperity that rightly belongs within our borders," reads a full-page ad that ran in the Wall Street Journalyesterday.

The ad, placed by US cannabis company Terra Tech Corp., is a letter to the American president appealing for help in allowing states to enact their own cannabis regulations "before it's too late".
"America is rapidly losing its competitive advantage to Canada," the letter states, pointing out that "several Canadian companies are taking advantage of US investor interest in cannabis to raise and deploy significant capital to acquire US assets."
What it Does to Your Health
"Clinical studies supporting the safety and efficacy of cannabis for therapeutic purposes in a variety of disorders are limited, but slowly increasing in number," reads a Health Canada report for health care professionals released on Monday.

The government report, peer-reviewed by 18 internationally recognized cannabis researchers, identifies evidence of therapeutic effects of cannabis for an array of conditions, including palliative care and quality of life, chemotherapy-induced nausea and vomiting, wasting syndrome and anorexia, multiple sclerosis, epilepsy, pain (acute and chronic), arthritides and musculoskeletal disorders such as osteoarthritis and fibromyalgia, movement disorders such as Huntington's and Parkinson's diseases, asthma, hypertension, sleep disorders, anxiety and depression, alcohol and opioid withdrawal symptoms, Alzheimer's disease and dementia, inflammation, and gastrointestinal diseases, among others.
Also considered in the report is the possibility of "cross-talk" between cannabinoid and opioid systems, leading to the ability for some patients to reduce their opioid consumption by using cannabis instead.
But cannabis is not a miracle cure.  The report also lists adverse effects of cannabis use, including carcinogenesis, respiratory tract toxins, immune system effects, and impact on the central nervous system.
Why Canadians Should be Proud About It
21 years after a Canadian court first declared that "smoking marijuana is relatively harmless", and 16 years after a Senate report summarized earlier findings by the Le Dain Commission that "the criminalization of cannabis had no scientific basis" and "remains unjustified", Canada has made a choice that makes a lot of sense, legally and practically, and has become an example to the world that legalization can be done calmly and responsibly.
Canadian drug laws have their origins in things that have nothing to do with drugs.  Initially, there were very few laws restricting drug use at all in Canada.  In the early 1900s, puritanical groups began advocating for less tolerance for alcohol and drugs, associating opium use with Chinese immigrants, which they claimed to be corrupting the nation.
The American campaign against drugs was unfolding around the same time, nudging Canada towards similar problematic conclusions.  For example, an inquiry by the American Pharmaceutical Association into drug use in 1903 asserted that drug use was widespread throughout US society but especially in two social groups, Chinese immigrants and black people.  Controlling the drugs was seen as an adjunctive way of controlling undesirable racial and cultural groups.
Canada's Opium Act of 1908, restricting opium trade, is now understood to have been primarily driven by moral, cultural, and ethnic considerations, including hostility against Chinese immigrants.  It was our first drug law, and became the direct legal ancestor to the Controlled Drugs and Substances Act that is now our all-encompassing criminal drug statute.
In the 1920's, hostility against the Chinese shifted to hostility against Mexicans and other immigrants from Latin America, who were culturally associated with marijuana.  Canadian officials don't seem to have known much about cannabis at the time, much less been aware of any particular social problem with it.  There was no debate in Parliament when cannabis was added to the Opium Act (by that time renamed the Opium and Narcotic Drugs Act) in 1923.  The other controlled substances added that year, at the same level as cannabis, were heroin and codeine.
Cannabis constitutional lawyer Alan Young has argued that a mythology was created in order to justify the outlawing of cannabis.  As he points out, Judge Emily Murphy, the first female judge in Canada, wrote in her book The Black Candle (1922) that "persons using this narcotic… lose all sense of moral responsibility. …While in this condition they become raving maniacs, and are liable to kill or indulge in any form of violence to other persons, using the most savage methods of cruelty." Maclean's magazine reported in 1938 that marijuana could "send a large proportion of the Dominion's population to the insane asylum."
Cannabis would remain illegal for 95 years, even when strong anecdotal evidence started appearing in the 1980s and 90s that it was therapeutic for people suffering from AIDS, cancer, and epilepsy.  It would take decades of court challenges, most of them led by Mr. Young, to nudge the federal government towards creating a legal exemption for medical cannabis use.  It would take the utter exhaustion of law enforcement and the broad success of organized crime in trafficking cannabis throughout the country to finally tip the balance of political policy in favour of outright recreational legalization.  And it took years of consultations, research, drafting, and debate to bring the Cannabis Act into being.
Today, a large proportion of the Dominion's population is set to line up to purchase legal cannabis, and Parliament is moving to pardon people who have been convicted of cannabis possession crimes.  Canadians can be proud of their country today for many reasons – among them that some measure of science and reason have finally prevailed over fear and propaganda, and we're a better country for it.
---
What's Up in Weed is not legal or financial advice. It is a blog by SkyLaw which is made available for informational purposes only and should not be used as a substitute for professional advice from a lawyer. This blog is subject to copyright and may not be reproduced without our permission. 
If you have any questions or would like further information, please contact us. The SkyLaw team would be delighted to speak with you.
© Copyright SkyLaw 2017. All rights reserved. SkyLaw is a registered trademark of SkyLaw Professional Corporation.
---
---
Subscribe to What's Up in Weed
Click here or enter your email address below to receive our weekly blog by email:
This blog post is not legal or financial advice. It is a blog which is made available by SkyLaw for informational purposes and should not be used as a substitute for professional advice from a lawyer.
This blog is subject to copyright and may not be reproduced without our permission. If you have any questions or would like further information, please contact us. We would be delighted to speak with you.
© SkyLaw . All rights reserved. SkyLaw is a registered trademark of SkyLaw Professional Corporation.